Who needs power in this day and age?
The short answer to that is:
We all do!
It doesn't matter what your situation may be, or what occupation you may have, you need the power to perform your day-to-day functions.
Because electricity is such a vital utility to have for all of us, this puts electricians in high demand; so much of the world depends on them daily.
In the following article, we will be going over what you have to do to become an electrician and start helping everyone live happy worry-free lives.
Sponsored Ad
Find what you're looking for
---
Electrician - Job Description
The term Electrician is referring to the occupation of an individual in which they perform work on electrical equipment around our homes and neighborhood.
This can entail installing new electrical boxes or replacing parts in your current one, upgrading or maintaining these boxes or other vital pieces of electrical equipment.
Because of the nature of the work that is being performed, electricians should know the ins and outs of power, lighting, and electrical control systems.
Every job that an electrician performs will require looking at the specific blueprints from the city for that particular property, understanding where everything is located and what needs to be done, and then to physically perform the necessary actions on the electrical box and other electrical equipment.
Some electricians are more skilled in specific areas, and as such will specialize in those.
For instance, one electrician may be skilled in highway electrical systems while another may be more suited to perform work on residential properties.
That said, it is also important to learn all that you can to diversify your skillset; this will make it easier for you to go from job to job without fear of not knowing how to perform a specific action or work on a specific piece of electrical equipment.
Duties
Plan electrical systems for new buildings and future developments
Fully read and understand blueprints, diagrams, and technical documents to perform the job correctly
Set up and install electrical systems such as wiring and lighting; making sure that these are up to code for new and old buildings
Form and connect electrical circuits
Complete both the installation as well as the future maintenance of electrical panels and products. This can include the act of inspecting said products; such as circuit breakers and transformers
Maintain the desired functions of electrical products; this includes, but is not limited to repairing, replacing, and upgrading outdated and malfunctioning equipment.
---
Salary
Similar to other professions, each state has different salary ranges and rates of pay per year for electricians.
This means that depending on where you live and plan to work, you may make more money in the next state over.
This is especially true for areas where electricians are in higher demand, such as more densely populated areas.
For instance, you can expect to make more as an electrician in areas such as New York, California, and Texas as opposed to areas such as Utah and Wyoming.
You shouldn't always go off of populated areas to consider when applying for work, however.
For instance, Alaska is the number one state in the U.S. when it comes to wages and salary for an electrician.
If you are looking to maximize your earnings for your work, this is a very viable option; in Alaska, an electrician can make up to $85,000 a year!
That said, typically the average salary for an electrician starting, or a novice, is around $30,000 a year.
Experienced electricians can usually make $55,000 a year while Expert Electricians with a good reputation and a proven track record with many years on the job can hope to see around $68,000 a year.
Average National Salary:
$55,000
Average Electrician Salary by State
| State | Salary |
| --- | --- |
| Alabama | $44,728 |
| Alaska | $53,849 |
| Arizona | $47,471 |
| Arkansas | $44,115 |
| California | $53,561 |
| Colorado | $47,807 |
| Connecticut | $52,122 |
| Delaware | $50,348 |
| Florida | $46,033 |
| Georgia | $46,272 |
| Hawaii | $50,492 |
| Idaho | $45,257 |
| Illinois | $49,404 |
| Indiana | $46,848 |
| Iowa | $45,793 |
| Kansas | $44,896 |
| Kentucky | $44,642 |
| Louisiana | $45,534 |
| Maine | $46,224 |
| Maryland | $49,821 |
| Massachusetts | $52,170 |
| Michigan | $48,430 |
| Minnesota | $48,910 |
| Mississippi | $41,591 |
| Missouri | $45,553 |
| Montana | $43,467 |
| Nebraska | $43,971 |
| Nevada | $49,389 |
| New Hampshire | $48,670 |
| New Jersey | $53,225 |
| New Mexico | $43,614 |
| New York | $51,451 |
| North Carolina | $45,745 |
| North Dakota | $44,594 |
| Ohio | $46,752 |
| Oklahoma | $45,074 |
| Oregon | $47,759 |
| Pennsylvania | $47,855 |
| Rhode Island | $50,540 |
| South Carolina | $44,496 |
| South Dakota | $40,902 |
| Tennessee | $43,563 |
| Texas | $46,992 |
| Utah | $45,430 |
| Vermont | $46,177 |
| Virginia | $47,198 |
| Washington | $51,211 |
| West Virginia | $42,245 |
| Wisconsin | $47,322 |
| Wyoming | $42,758 |
* Salary information last updated 2021
---
How to Become an Electrician
Step 1

Educate Yourself

As with many things in life, before getting started on your path to becoming an fully certified electrician, it is important to take the time to really learn everything you can about the different types of electrical work, how it is performed, and decide if that is something you could do or would want to do every day.

This will also help you in deciding what type of electrician you will want to become down the road, and after being board certified.
Step 2

Search and Discover

Similar to carpentry or other trades, you will need to start an apprenticeship that suits your needs, as well as the needs of whoever is training you.

There are many different ways you can go about this, such as through a technical school, community college, or even a current/future employer.

The goal, and what apprenticing will accomplish, is to not only learn and understand everything that you will need to know but to also get some hands-on experience before starting on your own.
Step 3

Get Employed

After graduating, (it may be an associate's degree or certification), you are now ready to begin your job search to be employed full-time as an electrician.

Looking at local job boards, networking, and marketing yourself on social media will all help in this endeavor.

As stated above, depending on your area, electrical work may be in higher demand, which will make finding a job that much easier.

As with almost all other jobs, once you get hired, you will more likely than not complete some on-the-job training before they send you out on your own to complete work.

This not only shows them what you are capable of starting, and what you can improve on but also will be a benefit to you; it will show you exactly what will be expected of you from your new employer.
Step 4

Test Your Skills

After you have enough knowledge, it is now time to begin your future career as an electrician, and show the world just what you are capable of.

After you feel confident and capable, the final step towards becoming a certified electrician is to take the licensing test to become a journeyman electrician.
---
Education
Once you decide that you completely, 100% want to be an electrician, the next best course of action would be to start education and training at a technical school, get a certificate, or go to a community college that supports the training and study of becoming an electrician.
If you are lucky, you may be able to skip the schooling aspect (although not recommended) and start with an apprenticeship at a local power company.
Either route you decide to take, you will need a lot of hands-on training and experience.
Getting a certificate to be an electrician takes roughly around a year to obtain, and is best suited for those who want to move into a job and subsequently, a career relatively quickly.
That said, going with the shorter route will make it so that you lose out on a lot of valuable information and training, and is better suited for electricians who are already somewhat established and simply want to brush up on their skills and knowledge of the craft.
Going the educational route, an associate's degree or attending a technical school will take roughly 2 years.
This may seem like a long time, and arguably it is twice as long as the beforementioned route, but you will not only receive an education in electrical technology but other studies as well; this will look far better on a resume than a certification alone.
This path will also provide on the job training, in most instances, and this alone can result in job placement and career after you graduate.
Lastly, there are apprenticeships.
While this may allow you to skip the educational route, and you will receive hands-on training with board-certified and qualified electricians.
This can last up to 5 years, and the knowledge you receive from the real-world experience can be invaluable, especially when it comes to receiving your license.
On the job training can last for around 144 hours of technical training, and over 2,000 hours of hands-on training.
When it comes to choosing a path to follow to reach the end goal of receiving your certification, it is important to take into consideration your schedule. location, and how many hours you can devote to training and/or education per week.
As stated above, each state has a different 'road map' to receive your license, but 90% of the time you will need to take an exam before becoming a certified electrician.
Video About The Career
---
Certification & Licensing
As we went over earlier, as an electrician you may choose to specialize in a specific department or have a specific skill set for your job.
That said, there are different types of licensing for all types of electricians.
A journeyman license is only awarded to those who have completed the apprenticeship program and passes the Electrical Journeyman Exam.
A pre-requisite for taking and completing this exam included proving that you have the necessary experience, as well as the classroom time to take the exam.
Some of the Information on the Exam Will Include:
General Electrical Knowledge
Wiring materials and methods
Knowledge of motors and generators
Electrical safety
Local, state, and federal electrical code
NFPA codes
How to read blueprints
Communications systems, and more
You can obtain a master electrician license after working for at least two years as a journeyman electrician and passing the Master Electrician exam.
Pre-requisites for even taking the exam are letters of reference from previous customers, as well as applying for the test; you aren't just granted a chance to take this exam because you desire to.
Although each state does require the passing of this exam to be licensed as a master electrician, each state also has its requirements for this type of licensing; and the path to acquiring this license.
It is a good idea to check with your state or local Electrical Contractors Board to receive the necessary information before moving forward.
Certification Example: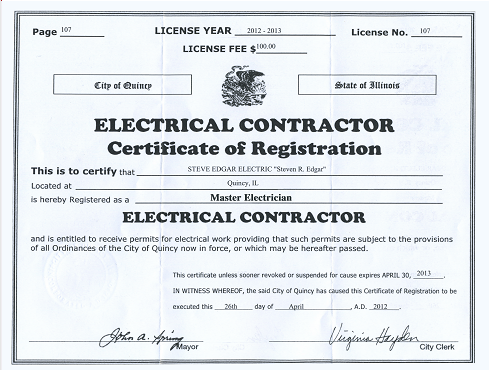 Average Training Program Duration:
1-3 Years
---
Popular Programs
Sponsored Ad
---
Job Outlook
As the population continues to grow, so too does the need and demand for qualified electricians.
As with most professions, electricians who're skills and expertise encompasses a wide range are more likely to be hired, and promoted, than those who specialize in a single field.
With any type of construction job, there is a higher demand for electricians during the warmer months, as this is considered to be the peak building time, or when there is more construction being performed.
Although electricians are generally in high demand, periods of unemployment can occur during the offseason for construction.
Employment Growth Projection:
10%
That's a higher than average projected growth of 74,100
---
Should I Become an Electrician?

Overall Satisfaction:
Medium
An interesting side fact is that electricians rank number three in the best construction jobs.
Although the starting salary is higher than other professions, such as in retail, the 'upward mobility', or opportunity for growth is less for an electrician than for someone in another field of study; there aren't many opportunities to advance in the title or receive a raise in salary.
Stress levels for an electrician are above average, and you will need to find a productive way to deal with stress to not let it consume you.
This is especially true due to the nature of the work; electrical problems don't always occur on a 9-5 schedule.
Unfortunately, the flexibility of the job is also below average.
This is because in most cases unless a part is unavailable until the following day, you will need to complete your assignment or task before leaving for the day.

Average Salary:
High
Your salary as an electrician is affected by several factors, such as level of education, years of experience, and the position within the company that you work for.
For instance, for electricians with up to two year's experience, high school diploma, and certificate, a starting salary of around $55,000/ year can be expected.
10 years of experience coupled with an associates' degree can expect to make slightly more than that; around $60,000/year.
As you may expect, the more years of experience and training that you have will allow you to make more like an electrician than someone who is just starting in the field.

Job Growth Outlook:
High
From the years 2018-2028, the job growth rate for an electrician is expected to be higher than most other careers.
Additionally, the job market is expected to see a 10% increase and almost 75,000 new jobs in those ten years.
When you think about the rate of growth for residential and commercial areas, this comes as no surprise.
New homes and businesses are being built daily.

Education Duration:
1-3 Years
Depending on the path you wish to take to start your career as an electrician, education, and training can take anywhere from 1-3 years.
As stated above, electricians that take more time on education and training, as opposed to those who are just studying for the exam, or working on an apprenticeship, are more likely to have an easier time being placed into a long-term career.
Most of the education received for an electrician is more hands-on and less classroom study.
As a result, the hours of training on the job are much higher than in other professions.
This is a great boon to you as a budding electrician, as the more hours of on the job training that you have, the easier it will be to find a job that will last you a long time.
An apprenticeship as an electrician can last anywhere from 3-7 years, depending on your region and the number of weekly hours you can devote to your chosen profession.

Personal Skills Needed
Hand-eye coordination is key, as you will need to be very precise with the equipment that you are working on, and being able to see what you are doing and have precision is a very important aspect of your day-to-day working life.
Time-management skills: It is rare as an electrician to have only one customer a day to service, and as such having time management skills is very important. Not only to make sure that your clients are taken care of, but also to ensure that you are making the most of your day. Electricians are usually paid per job, and not per hour.
Problem-solving skills: You will be working alone for the most of your day, and as such you will need to have problem-solving skills to diagnose what is wrong with the equipment, and take the steps to either repair or replace.
Customer Service Skills: You will be dealing with people for a good portion of your day, and customers will have a much better experience if you possess the necessary ability to communicate with them in a friendly and professional manner.
Physical Strength and Endurance: Most of your working day will be spent either on your feet or your knees. This is due to the location(s) of the electrical equipment. During your day, you will be lifting to 50lbs regularly as well.
Critical and Logical Thinking Skills: These beforementioned skills will aid you in problem-solving and diagnosing, as well as thinking outside the box when it comes to tougher situations.
Leadership Skills: You may one day be training a new electrician, or have a group of electricians under you; depending on your job and local.
Mathematical and Scientific Knowledge: understanding basic math and science will help you to perform the basic functions of your job, and will also aid in getting you out of some tight spots with uncommon diagnostics.
Electrical Standards Knowledge: It is important to know what to do, and how to adapt to all different types of problems as an electrician. Having the knowledge of how electrical equipment works, and what may be going wrong with a specific piece, will be beneficial to perform your job exceptionally.
Independence: Electricians generally work by themselves, and you will need to learn to rely on yourself and your knowledge and expertise.
---
Frequently Asked Questions
Q. How Much Does an Electrician Make?
In 2019, the average salary for an electrician was $55,000.
The electricians that were in the top 25% made around $67,000 whereas the lower half made roughly $41,000/year.
Electricians without the proper training and experience would stand to make less than the lower average, and electricians with a wide range of knowledge and experience would stand to make more than above the top average.
Q. What Does an Electrician Do?
An electrician is responsible for making sure that the power in a certain area is fully functional and remains working at all times.
Your local electricians are responsible for making sure that our homes, schools, and places of business have power, and are responsible for the maintenance and upkeep of the electrical boxes and equipment installed on-site.
Some electricians build the wiring systems that are placed into the electrical equipment, while some are solely responsible for the maintenance, repairing and upgrading of the electrical units and equipment that has been previously installed.
Q. How Long Does it Take to Become an Electrician?
The answer to this question is: it depends on the path you decide to take to receive your certification as an electrician.
As mentioned above, simply taking the exam and getting your certification is the fastest route, but you will, unfortunately, miss out on a lot of useful information and hands-on training.
That said, if you go the route of receiving an education from a community college or technical school, it can set you back around 2-3 years; depending on how many hours a week you can devote to your schooling.
After you graduate, you will then need to start an apprenticeship for around 3 years.
This includes on the job training and hands-on learning. But it is a paid position, so you are learning while you get paid to do so.
Q. Is an Electrician a Good Career?
Yes, being an electrician is an excellent choice for a career.
This is especially true if you enjoy working with your hands and challenging yourself to find a solution that may not always be staring you in the face, so to speak.
You will be working with electrical equipment, and as such will need to know the innermost workings of that type of equipment.
However, if this type of work excites you then this could be the perfect job for you.
Q. Is there a Demand for Electricians?
Almost all of the country, except for the most remote locations, runs on electricity, so yes; there will always be a need for a qualified electrician in most areas.
However, if you are looking for job security as an electrician you would be advised to diversify your skillset, and not just focus on one particular area of work.
For instance, you can look into voice, data, and video wiring; as these are all becoming very necessary in today's world.
---
Electrician Classes by State