Have your lights ever gone out in the middle of the night, or maybe one of your electrical outlets stopped working?
In such situations, you either fixed it yourself or called an electrician, right?
Electricians are specialized in electricity and wiring systems—their goal is to bring light and warmth into your life.
Some electricians may work with residential clients, while others with commercial clients or the government.
On this page, you'll learn everything you need to know about this career and how to become an electrician.
Sponsored Listings
Find what you're looking for
---
What an Electrician Does
Electricians are considered trades professionals who work to ensure we are all staying warm and dry.
They have the knowledge and expertise to look over the electrical systems in houses and buildings.
They spend their time working with wiring systems, installing, upgrading, and running risk management operations to ensure everything is safe.
Working as an electrician can be a time-consuming and dangerous job, but with the right skills, it can also be a great career.
Duties
An electrician has many responsibilities.
Some of the tasks they're expected to do daily are as follows:
Reading and creating blueprints
Using hand and power tools
Inspecting and installing electrical components and wiring systems
Keeping records of data
Adhering to state and local regulations
Using testing tools to diagnose problems
---
How Much an Electrician Earns
In general, trade workers like electricians earn more than enough salary to sustain their lifestyle.
According to BLS, an average electrician can make $60,040 a year as of May 2021.
If they're new to the industry, they can expect an annual salary of $37,020.
Meanwhile, if they have gained sufficient experience and expertise, it's possible to earn $99,800 annually.
Of course, we can't overlook the fact that several factors come into play when it comes to determining the final salary.
One major factor that affects it is the location of the workplace.
Below, you'll find the average annual salaries in each state per the BLS.
Average National Salary:
$60,040
Average Electrician Salary by State
| State | Salary |
| --- | --- |
| Alabama | $47,040 |
| Alaska | $78,070 |
| Arizona | $48,200 |
| Arkansas | $46,180 |
| California | $71,140 |
| Colorado | $59,380 |
| Connecticut | $62,210 |
| Delaware | $47,990 |
| Florida | $47,750 |
| Georgia | $49,490 |
| Hawaii | $78,600 |
| Idaho | $48,420 |
| Illinois | $88,900 |
| Indiana | $62,260 |
| Iowa | $59,430 |
| Kansas | $49,670 |
| Kentucky | $48,450 |
| Louisiana | $50,100 |
| Maine | $58,980 |
| Maryland | $60,250 |
| Massachusetts | $75,990 |
| Michigan | $61,930 |
| Minnesota | $64,120 |
| Mississippi | $48,940 |
| Missouri | $60,210 |
| Montana | $61,170 |
| Nebraska | $48,370 |
| Nevada | $61,630 |
| New Hampshire | $59,820 |
| New Jersey | $72,600 |
| New Mexico | $49,820 |
| New York | $76,960 |
| North Carolina | $47,310 |
| North Dakota | $44,594 |
| Ohio | $59,380 |
| Oklahoma | $52,250 |
| Oregon | $47,759 |
| Pennsylvania | $61,630 |
| Rhode Island | $60,760 |
| South Carolina | $47,590 |
| South Dakota | $48,370 |
| Tennessee | $48,500 |
| Texas | $48,590 |
| Utah | $50,580 |
| Vermont | $48,160 |
| Virginia | $57,850 |
| Washington | $76,710 |
| West Virginia | $59,800 |
| Wisconsin | $62,590 |
| Wyoming | $61,260 |
* Salary information last updated 2023
---
Steps to Becoming an Electrician
Step 1

Earn a High School Diploma

In most cases, you won't need to have a college degree to become an electrician.

Most of the time, a high school diploma or GED will be enough to start your career journey.

There are still a few things that you will need to cover in case you don't choose to go to a trade school or university.

For example, make sure that you have a good grasp of the following:
Math and sciences
Construction skills
Written and verbal communication skills
That's why you should consider taking the following subjects in high school:
Trigonometry
Physics
English
Shop
Mechanical drawing
In these subjects, you need to maintain a GPA of at least 2.5 as employers will consider your grades when hiring.
Step 2

Enroll in a Trade School

After high school, you may decide that you want to receive more formal electrician training.

In that case, taking classes at a trade school or community college can take you a long way.

Most programs take about one year to finish, while an associate's degree can take up to two years.

In these programs, you'll have classroom and lab learning, and/or internships with local professional electricians.

Some schools even offer Journeyman programs, which can open many opportunities for you.

Note:

Earning a degree or certificate is not a mandatory requirement for you to work as an electrician.

However, many employers and clients do prefer that their electricians obtain solid education.
Step 3

Become an Apprentice

Whether you decide to go to a trade school or college is up to you, but apprenticeship should happen regardless of your education.

This is because an apprenticeship will allow you to work side by side with senior electricians to learn the tricks of the trade.

If you have attended a trade school, they may include an apprenticeship program in the course.

There are many cases where a program will allow an apprentice to work for pay, or even for school credit.

Other ways that you can become an apprentice are through…
Electrician unions
Independent electrical contractors
The Joint Apprentice Training Committee
An apprenticeship can last anywhere from one to four years, giving you the needed hands-on experience.
Some of the things you will learn through an apprenticeship include:
Understanding and reading blueprints
Installing, repairing, and maintaining electrical equipment
Using devices to test electricity
To become an apprentice, you may have to take an aptitude exam to show your competence.
In addition to that, you may need to attend a job interview, take a drug test, and undergo a background check.
Step 4

Further Your Career

Now that you have all the knowledge and skills, you will now want to step out and take on the world.

After you graduate, you may get employed by the same company where you took the apprenticeship.

However, for those who want to look for other experiences, there are some options.

The first thing you will want to do to further your career is to earn a professional certification.

Most certifications are different depending on which state you work in.

Here are some of the electrician certifications available in the U.S.:
Journeyman Electrician
Master Electrician
Residential Electrician
Commercial Electrician
Securing and maintaining certifications can not only boost your salary but also your credentials.
---
Education Required to Be an Electrician
Regardless of the educational pathway you'll choose, you will learn the following at a minimum:
Basic electrical theory
Wiring and load calculations
Voltage and currents
Field and shop safety
If you opt for an associate's program, then you'll have additional classes on topics like:
Fundamental knowledge of electrical work
Residential wiring
Electrical code
Commercial wiring
Accident prevention
Electrical drawing and print reading
After completing the classroom instructions, you'll have on-the-job training or apprenticeship (if it's part of the program).
During the training, you'll shadow the Master Electrician to gain knowledge, skills, and field experience.
Video About The Career
---
Certification and Licenses Needed to Work as a Professional Electrician
There are different types of electrician certifications out there, depending on your specialty and the state you're in.
Some of the most popular certifications are as follows:
Journeyman Electrician
Master Electrician
Residential Electrician
Commercial Electrician
To become a Journeyman Electrician, you will need to complete an apprenticeship program.
It is also required that you pass an exam in order to gain this credential.
The exam requirements can vary by state, but most Journeyman Electrician exams will cover topics like:
Electrical theory
System and circuit grounding
Fuses, circuit breakers, and protective devices
State laws and regulations
Installation of motors
Calculations of electrical loads
Most Journeyman Electrician exams consist of 100 to 200 questions.
A Master Electrician is one step above a Journeyman Electrician, and also requires you to take and pass an exam.
To be eligible for the Master Electrician exam, you will need to meet the minimum requirements:
Must be at least 22 years old
Have two years of experience as a Journeyman Electrician
Have more than 12,000 hours of experience under the supervision of a Master Electrician
Both the Residential Electrician and Commercial Electrician certification requirements also vary by state.
The exams for these two certifications typically consist of about 100 questions.
All exams require at least a score of 75% to pass.
To renew your certification, you may need to retake the exam or complete continuing education units.
Certification Example: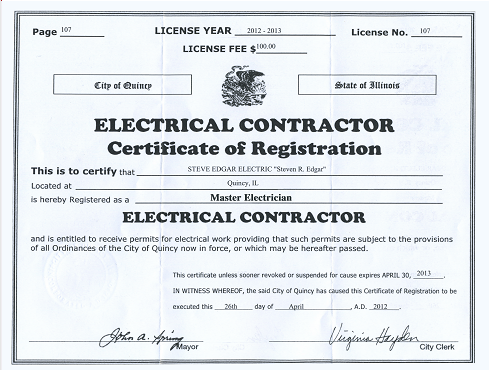 Average Training Program Duration:
1-3 Years
---
Popular Programs
Sponsored Listings
---
What the Job Outlook Looks Like
According to the Bureau of Labor Statistics (BLS), this career will have a projected employment growth of 7% from 2021 to 2031.
Such growth primarily lies in the increasing investment toward alternative power generation, like solar and wind power.
Due to this, more electricians will be needed to help connect these alternative systems to homes, buildings, and power grids.
Other factors that may weigh into the job outlook are the number of employees retiring and leaving the workforce.
And so, new electricians will be welcomed into the industry to replace the lost manpower.
Employment Growth Projection:
7%
That's a higher than average projected growth of 50,200
---
Should You Become an Electrician?

Overall Satisfaction:
Medium
There are some great benefits to working as an electrician, but there are some downsides as well.
The hours can be long and strenuous, and there is little room for advancement in this career.
It may even be stressful to handle at times.
However, most electricians feel that they are doing something good for the world, which makes the job more enjoyable.
Those who have relevant education and understanding of electrical systems typically find this career to be more satisfactory.
Average Salary:
High
Because it is a trades career, the annual average salary will, most often, be high.
Electricians can make $60,040 a year on average (BLS, May 2021).
It's also possible for it to reach $99,800 if they accumulate more professional credentials.
Meanwhile, those skilled in alternative power generation can find better job opportunities that may lead to higher annual salaries.

Job Growth Outlook:
High
Overall, it seems that this career will continue to grow over the next decade.
With a 7% job growth from 2021 to 2031, electricians should have no issues with employment in the future.
New electricians can increase their employability if they have…
Relevant education and experience in the trade
Have knowledge and skills in solar, wind, and other alternative energies

Education Duration:
1-3 Years
This profession doesn't take much education as experience (through apprenticeship) is the most preferred way of learning.
You only need to complete the program for, at most, three years before undergoing the on-the-job training.
States have different requirements for apprenticeship programs, but most can last anywhere from one to four years.

Personal Skills Needed
Not only should you be well-versed in the trade, but you will also need other important qualities to make it in this career.
Your skill set should include:
Good communication skills
Ability to work as a team, or if alone, with less supervision
Problem-solving skills
Mechanical knowledge
Business and customer service skills
Blueprint reading abilities
Physical fitness and stamina
Dependability
Attention to detail
Time management skills
Manual dexterity
---
Frequently Asked Questions
Q. What does an electrician do?
An electrician typically does the following:
Read blueprints
Install, repair, and maintain electrical systems and equipment
Follow local, state, and federal building regulations
Follow safety regulations
They can work in both residential and commercial sectors.
Q. How much does an electrician make?
Typically, an electrician can earn an average annual salary of $60,040.
For apprentices, they can make around $25,000 to $30,000 a year.
Of course, if they obtained certification or specialization, then it will make a significant impact on their salaries.
Q. What is the demand for electricians?
Because we constantly rely on electricity, there will be a steady stream of jobs over the years.
Employment will increase by 7% from 2021 to 2031, with electricians proficient in alternative energy becoming popular in the job market.
Q. How long does it take to become an electrician?
It depends.
If you started the career straight out of high school, it'll take you, at most, four years to go from an apprentice to a journeyman electrician.
Meanwhile, if you took an electrician's trade program, then you'll have, at most, seven years before becoming an electrician.
Q. How much does the electrician's trade program cost?
The cost depends on the type of program you choose.
A diploma or certificate program can cost around $3,000.
Meanwhile, an associate's degree can range from $10,000 to $15,000.
Apprenticeship programs are usually free as these are sponsored by a union or private employer.
All in all, the cost to become an electrician can be anywhere from $500-$15,000.
---
Electrician Classes by State

---
This page is also available in Spanish.